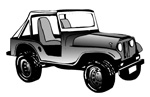 Defensive Driving Lessons
At All County Drivers Training Center Inc., we hired a safety consultant to evaluate 100 students. Each student had five lessons at 45 minutes each. These were called "road test preparation" lessons and were given to the student who felt that his or her skills were sufficient to pass the New York State road test and only required minimal additional training.
The safety consultant found that although most of the students passed the road test, at least 95% needed to improve their safety techniques and awareness skills. Our consultant did not see the students perform the following crucial steps (five keys to safety) to becoming a conscientious, safe driver:
1. Aim High in Steering
2. Get the Big Picture
3. Keep Your Eyes Moving
4. Leave Yourself a Way Out
5. Make Sure They See You
The five keys to safety can correctly and, more importantly, safely teach students defensive driving techniques. This independent safety consultant has more than 1 million miles (accident free) as a professional instructor. He has taken several defensive driving classes and understands the preventative measures that need to be taught to stay alive on the roads today. You should understand them too! A car is a weapon when not handled properly!
We have had an overwhelming response from students who have taken these lessons, which consist of 90-minute lessons at $140 each. Our safety consultant provides the students with a complete understanding of these techniques, enabling them to be safe and confident drivers. If you or someone you know does not know the five keys to safety, please consider calling us to set up an appointment to learn from a safety professional.
Our safety consultant states: "As a professional driver, I have never seen parallel parking and k-turns save lives. Defensive driving has! You may very well pass a road test, but that does not mean you are completely ready for the roads. Remember for every dollar you spend on professional driving lessons, you will save on car repairs and accidents."